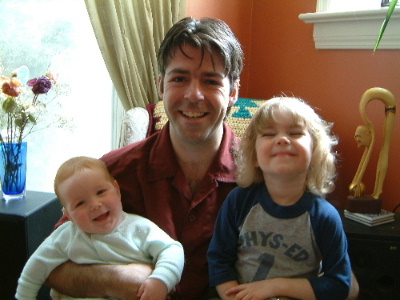 What a Happy Bunch!
Last week our family visited the Saskatoon Forestry Farm Zoo.  Our zoo doesn't have lions, tigers, or bears, but rather wolves, buffalo, and deer - animals that are native to our province.  There are lots of free roaming Canada Geese and other large fowl.  The zoo is a beautiful place for a Sunday afternoon.
On May 21st, Lauren turned 3 years old!  She's a real little lady now, not so much a baby.  We had a wonderful back yard party with a huge blow up castle that the children could jump in.  Lauren got a soccer ball from her mommy and daddy.  Now she is practising her skills in the back yard for next season when she can play micro soccer.
Above are some pictures of us at the first Saskatchewan Roughrider football game.  (Notice the stylish, matching vizors!)  Nicholas was enjoying himself...really!  The game is in our provincial capital, Regina, so we have to drive 2 1/2 hours to the game.  It was an exciting road trip.  (Lauren stayed home with her Gramma!).