October 2001
---
This summer, in our garden, we grew some pumkins. One turned out to be 63 pounds! It wouldn't win any awards, but it sure made a great Hallowe'en jack-o'-lantern. Lauren helped us design and carve our two home grown pumkins. She also decided she liked them so much that she wanted to be one for Hallowe'en!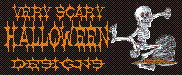 In October, we attended the Calgary Imprint Canada trade show. There is a free design of the Calgary skyline in a rope on our web site. After the show, we decided to take a day trip into the Rocky Mountains to visit our friend, Wendy, in Banff. She works as a print & papermaking facilitator at the Banff Centre, as well as being an artist herself. Banff is such a beautiful place. In the morning, we took a trip up the mountain on the gondola. We had lunch at the top and went to the lookout to take some fabulous pictures. That afternoon, we took a drive to do some sight seeing (The Banff Springs Hotel) and did some shopping. It was a nice little getaway even if the visit was all too short. Someday, we would like to see the Stitchitize Embroidery Roadshow go to Banff for an Embroidery Retreat. The town has so much to offer - facilities for a conference, exceptional restaurants & shopping, and closeness to nature's beauty.  It would foster a wonderful sharing and learning environment.

See Wendy at The Centre, Press "here"