February 2002
---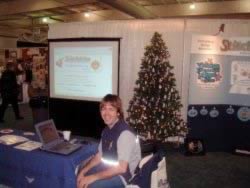 | | |
| --- | --- |
| | In February, we started to promote the Learning Studio at the Creative Stitches and Crafting Alive Trade Shows. The first show we did was in Saskatoon, our home town, and it was a good place to start. We also went to Edmonton in February and met many new friends. Kasha Promotions puts on these shows, and if you would like to know more about them, press on the logo to the left. Above is a Picture of Trevor at the Show in Saskatoon. |
Did you notice Scott's Tree of Remembrance in the photo of our Booth at the show? We brought the Tree with us to show it off at the Shows in Saskaton and Edmonton. Most people thought we were kind of late for Christmas, and didn't know that this tree will shine brightly all year long. We told them that it was a Tree of Remembrance and invited all to visit our web site and hang a ribbon to remember their loved ones. To get the tree ready to show off, we had a ribbon making party. All of our family and friends were invited to come and spend an evening with us making the tree. The photo below is a group picture taken that night. See the new page for Scott's Tree to see more photo's of the party we had to help make the Tree a reality.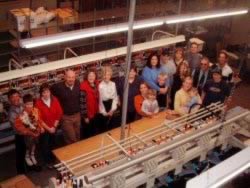 Scott Leier, Trevor's very good friend, was married to Carlene Orth in February. Scott and I (Trevor) have been great friends since high school, and we have gotten to know Carlene in the past few years. We think they make a wonderful couple and wish them all the best. The wedding was held in Saskatoon, although Scott and Carlene live in West Vancouver, BC. Scott's family is in the hotel business, and the wedding celebration was held at their hotel in Saskatoon, the Sheraton Cavalier. It is a beautiful hotel in downtown Saskatoon, and is situated along the river bank.  Lorna and I were also married at the Sheraton Cavalier, in the beautiful ball room, on the top floor. The view of our beautiful city is awesome from the Top of the Inn ballroom. The Sheraton Cavalier will be the location for the first ever Stitchitize Embroidery Design Creation Conference. We are planting the seeds now to invite you all to Saskatoon to learn about embroidery design in the summer of 2003. More info about the conference to come later this year. Below is a photo of the Sheraton Cavalier in Saskatoon, and a photo of Lauren getting ready for the wedding.
Please let me share this beautiful story with you about this quilt. It was made by Pat Nagel for a boy who is terminally ill with cancer. His name is Neil, he is five years old and from the small town of Ionia Michigan. The Make a Wish Foundation granted Neil his wish to spend a day at Walmart. Pat who is 60 something and in a wheelchair, was contacted by Walmart to make a quilt for Neil. His favorite animal is a pig, so Pat decided to make Neil and "Piggy Quilt". Walmart donated the materials and Pat stitched up some magic. The Quilt was hung at Walmart for all to see on Neil's special day and he was thrilled. The world is a better place with people like Pat Nagel in it.