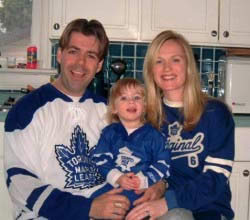 This picture shows Trevor and family in their Toronto Maple Leaf shirts. Trevor was born in Toronto and has been waiting his entire life for the Maple Leafs to win the Stanley Cup. Toronto is in the playoffs this year, and as usual we have high hopes. Lauren likes to watch the hockey games and is very good at cheering when our team scores a goal. GO LEAFS GO!!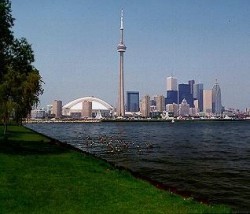 Photo of Toronto skyline over Lake Ontario.
In April, Trevor and George were at the Creative Sewing and Needlework Festival in Toronto. This was our first time to attend this show, and we met many new friends. While there, Trevor taught a class on the basics of digitizing and also introduced the Learning Studio to many new people. We had a very good time at the show and we will be back in the fall. This is a very big event with tons of classes, and a large exhibit hall. To see the show web site press on the image below.