How to use your U-Pick Voucher
The U-Pick Voucher consists of either a Pick 50, or a Bakers's Dozen.
The Pick 50 allows you to select 50 designs of your choosing from our entire online design collection. The Baker's Dozen allows you to select 13 designs from our collection.
To redeem either voucher, please follow these simple steps:
STEP 1
Log in to our website, or join if you are not already a member (free), then click on the U-Pick tab on the top Navigation bar or under the Welcome menu.

View the details of the Pick 50 or the Baker's Dozen, or to begin using your voucher, click "GO".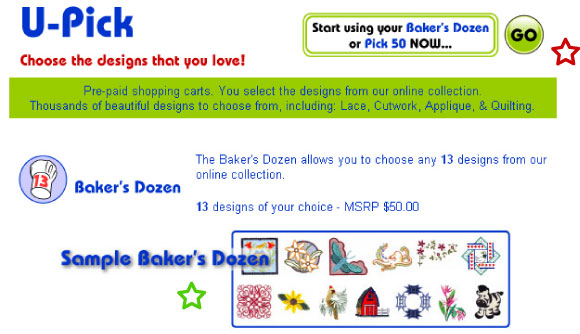 Enter the voucher number in the box and click "GO".
(The voucher number can be found on the inside of the voucher card available for purchase exclusively from your Stitchitize Dealer.)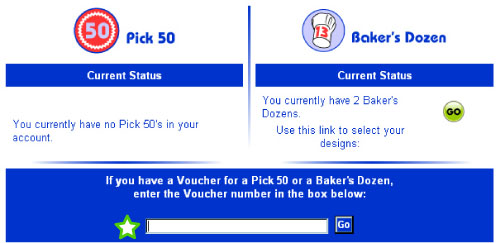 STEP 4
Now that you have successfully redeemed your U-Pick voucher, you can view your current status (to see how many vouchers you have available to use).
When you wish to add designs to your shopping cart, click "GO".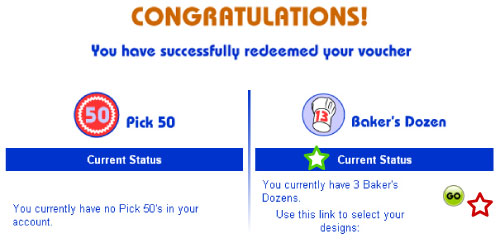 STEP 5
You may now search for designs and add them to your Basket. You may choose designs all at once, or add some now, then add others later, but you must collect all 50 (for the Pick 50), or all 13 (for the Baker's Dozen) before you can download the designs.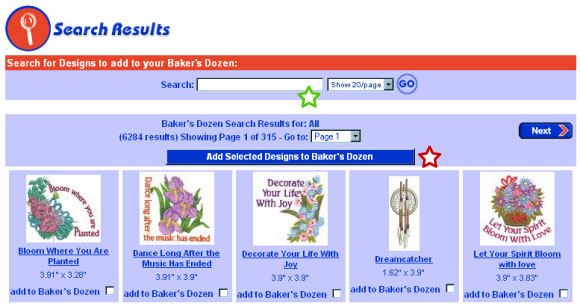 STEP 6
As you add selected designs to your Shopping Cart, you will be shown an update stating how many designs you currently have. You may then continue shopping for other designs or delete selected designs.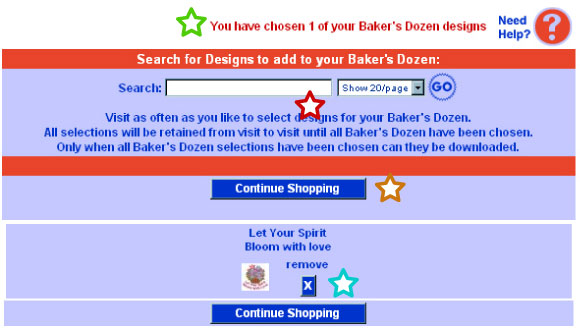 STEP 7
When all 50 designs (for the Pick 50), or all 13 designs (for the Baker's Dozen) have been selected, you may make changes to your selection by clicking on the X beside the image to remove it, or "Approve & Confirm" that your selection is complete.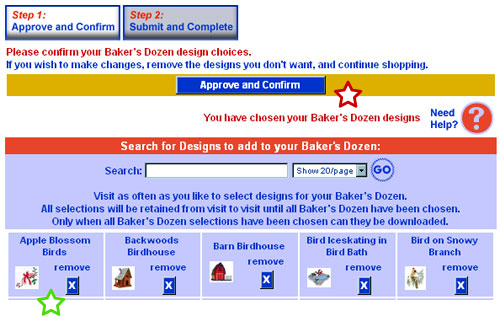 STEP 8
Once you have confirmed the final selection of designs, "Submit and Complete".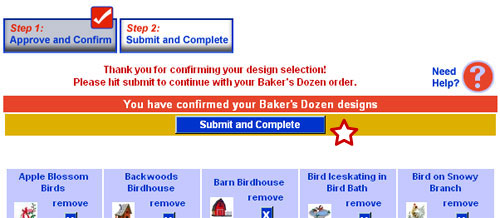 STEP 9
You have now completed your U-Pick. Your designs are available to be downloaded or viewed at any time 24/7 in your Download Center. You can click on "Download Designs" now, or you may access your designs in the future from the "My Designs" tab in the top navigation bar of the Stitchitize website.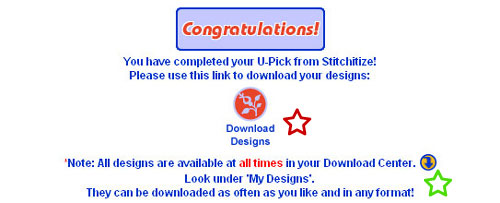 STEP 10
In the Download Center, you may view and print the instructions for each design, view a large image of the finished design, select the file type that matches your sewing machine, and download or receive the design by email.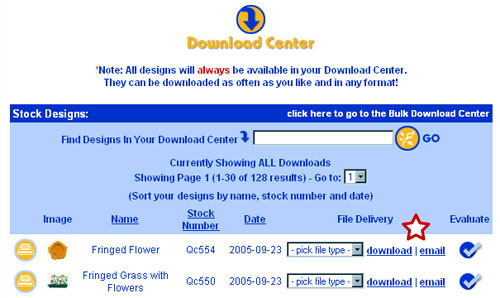 Click here if you wish to view more detailed instructions
of the Download Center