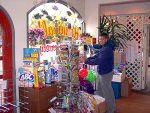 Carl in the window.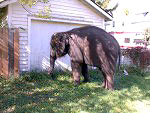 This is the little elephant.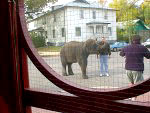 We could watch out 
our window.
Our beautiful building caught the eye of a movie producer and we agreed to let them shoot a movie at Stitchitize. 
Everything happened outside and  they had to paint the windows and put all kinds of stuff in the window to make it look like a corner store in the early 1900's.  Funny thing is the building was a corner store in the early 1900's.
The made for TV movie,  called the "Impossible Elephant" featured a baby elephant that everybody here fell in love with.  I have no idea when the movie will play but I think they said it will be picked up by Disney.
We could see all the action out our windows and  it's a good thing they were done in one day as it is hard to digitize with all that excitement.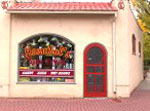 Stitchitize Building today painted for the movie.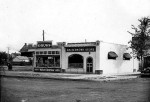 Stitchitize building early 1900's.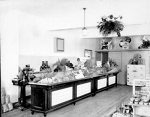 Inside the old store in the 1930's.