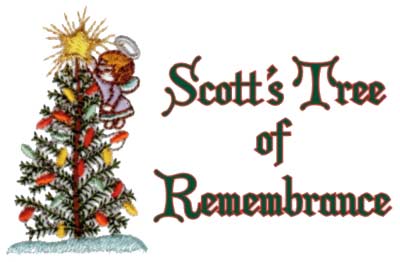 Made by Trevor and Lorna Conquergood


| | |
| --- | --- |
| In Loving memory of our son Scott Carl Conquergood who we lost at 37 weeks of pregnancy, September 14th, 2001. | |
In life, we all suffer the loss of loved ones and dreams. It is our wish to open our hearts and embrace those who are feeling helpless and ask if they would like to hang a ribbon for their loved one that is gone from our physical earth on Scott's Tree of Remembrance. This may help us feel like we can do something and that we are able to show the world that our loved one existed and that our love for them still does. With Scott's Tree, we hope to reach as many people as possible, to help rebuild some new dreams for the future, and revitalize hope in all our lives.
Please hang a ribbon for your loved one on Scott's Tree of Remembrance.
Trevor and Lorna have made beautiful ribbons in 8 colours for you to choose from. We will write your loved ones name on the back and hang it on Scott's Tree.

---

Our story starts with Lauren and her dad hunting for a Christmas tree. Lauren is very excited to find a tree that we will adorn with memories for her brother.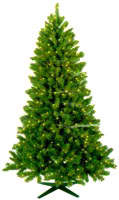 First we looked in the Walmart Forest, but we didn't find just the right tree, so we continued to search other forests - like Sears Forest, The Bay Forest and Canadian Tire Forest. All the time we were searching for just the right tree, Lauren and her dad sang Christmas Songs. We did see a band of merry men, but we just couldn't find the perfect tree for Scott. Finally we found just the right tree, it was way up high in the Zellers Mountains. Lauren saw a star up in the sky (hanging form the ceiling), high above the Zellers Mountains and she said "STARrr". Then we knew that we had found Scott's Tree and our search was over. We were home in time for Lauren's bedtime and all were happy.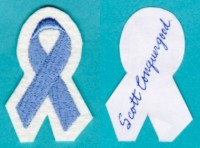 The ribbons that we will be hanging on the tree will look just like this one. We will write the name of your loved one one the back and hang it on Scott's Tree. Lorna and Trevor are making all of the ribbons themselves with the help of family and friends. We will use our 12 head embroidery machine to sew them all with different colours on each head.
The ribbons are sewn on scrim felt because it is nice and strong like cardboard and it does not bend very easily. It also can be cut and will not fray on the edge. We apply fuseable backing to them after they are embroidered to clean up the back. The ribbons are then cut out in the shape of the embroidery. After we write someone's name on them, we will tie the ribbons to the tree with embroidery thread.

Scott's tree will get much more than the embroidered ribbons to hang from it's branchs. We plan to make a beautiful Applique Star for the top and will also make ornaments out of our christmas designs to add to the tree. We have a nativity scene in the works and we plan to use on the tree skirt.
Of course, we will be illustrating all of the efforts to make Scott's Tree beautiful and we will add them to this page over time.Please visit Scott's Tree again sometime to see it's progress.
We would love it, if you would like to make an embroidered ornament for Scott's Tree. It can be any thing you like and you can make it in memory of someone or just for Scott. If you do plan to make something you can send it to us:
Scott's Tree
care of - Stitchitize
313 Ontario Ave.
Saskatoon Sk, Canada
S7K 1S3.
If you plan to make an embroidered ornament for the tree please make something that is durable and not breakable as we will travel with Scott's Tree at times.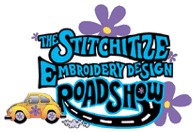 Scott's Tree will get around, over the next few years we plan to bring it with us to some of the dates we have set up for our Embroidery Design Road Show. Somthing as beautifull as Scott's Tree deserves to be seen. We will print a list of all of the people who we have hung ribbons for and display it with the tree.
We also will try to keep an estimate of the number of stitches that are added to Scott's Tree. The ribbon is 1,800sts and so every hundred ribbons will add 180,000sts to the tree. Millions and millions of embroidered stitches will be added to the tree and, who knows, maybe some day we can take it to the Guiness Book to see if there is a record to make.