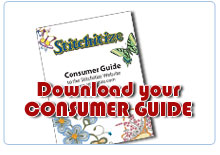 The Consumer Guide is a helpful 40 page .pdf file that provides step by step instructions on how to use our website.
Since it is a large file (3.20 MB), it is recommended that you download it to your computer and open the document in Adobe Acrobat. From Acrobat, you may view or print the document.
To save the file, click on the image above with your right mouse button, then select "Save Target As..." and select a folder on your computer to save it in.
You may also view the file directly by clicking on the image above with your left mouse button.
---
If you do not have Adobe Acrobat Reader, you may download a free copy by clicking on the icon below: