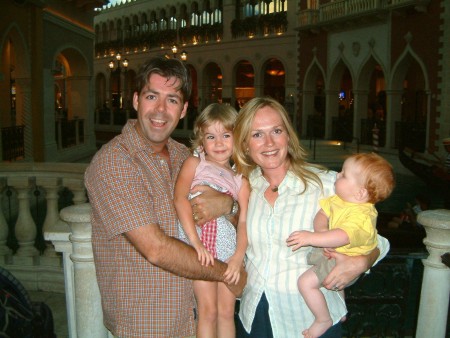 The end of June, beginning of July brought our family to Las Vegas for the Janome Institute. We stayed at the beautiful Venetian Hotel which was also where the institute was held. We did a lot of sight seeing in the evenings. Trevor wore Nicholas on his back a lot (like Las Vegas isn't hot enough already!). In addition to Wendy and George, Beverley also joined us. We were quite the enteurage walking down the strip.
While Trevor was busy working, (he did join us on his day off), the children and I spent countless hours at the pool. It was the most fun way to keep cool! The children had absolutely no trouble making friends. Nicholas was one of the most eligible bachelors poolside and Lauren was easily one of the best swimmers!
Lauren and some new friends. Nicholas with the beautiful Jersey Girls!
During the Janome Institute, there were some fun activities planned and even a "vest" contest! At the final evening, after a terrific meal, the karaoke machine came out. There were many people who had surprisingly beautiful voices. David Manierka of Janome Canada was definately one of them. There was also one other guy who belted out some Tom Jones that had the young girls swooning.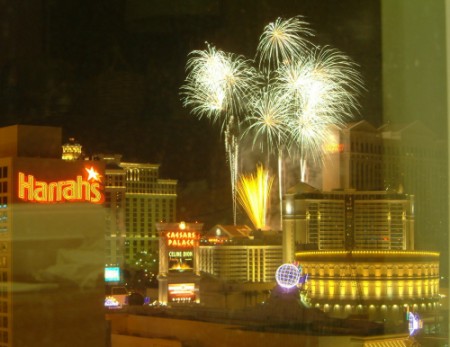 We spent July 4th in Las Vegas. Our little family could not imagine being on the strip for the fireworks, so instead we got take out supper (with sprinkle crispy creme doughnuts for desert!) and watch the spectacular show from our hotel room window. Trevor took some unbelievable firework pictures! Happy Independence Day!