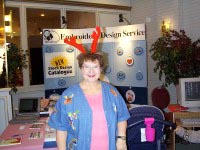 Lauren, Lorna and I traveled to Calgary, Alberta, Canada for the Adventures in Embroidery Expo this month. We had a fabulous time in cowtown and met many new friends.
The embroiderers seemed to overtake the hotel with someone wearing their proudly crafted, best embroidered clothes everywhere you looked.
The people were so friendly. I can honestly say that this was the most fun I have ever had at a trade show.†No one at the show expected the snow we had the first morning, but it was only a treat for the southern U.S. attendees and was gone by noon.
I taught a class at the show and I think it went pretty well. I have had some good feedback from my class so I think I will work on my materials and plan to teach a few more.†I also have some great ideas for web based teaching and will keep dreaming for now and see what I can accomplish.
We really enjoyed the trip to Calgary and liked all of the people we met. Thanks Jen and Linda. You put on a great event.