August 2008
Saskatoon Exhibition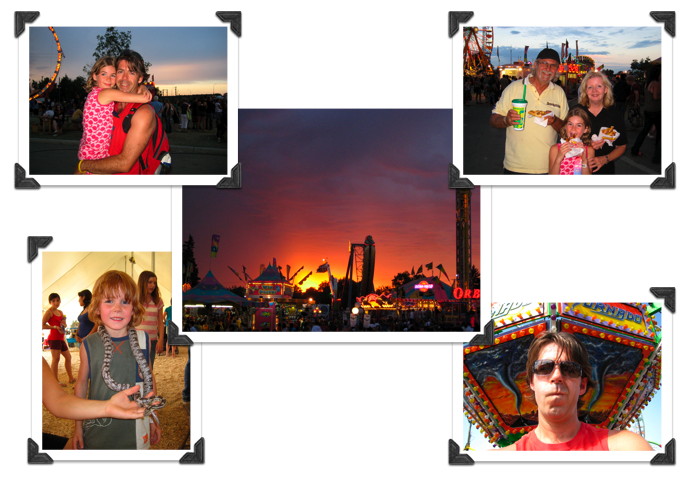 The Saskatoon Exhabition happens each year in August and you can almost bet they will be some of the hottest days of the year. This year it was especially hot on the day we went to the EX and met up with Nana and Pompa. One thing about extreamly hot days on the praries is they are sure to end up in fantastic evening thunder storms. The lightning storm that night was tremendous and you can get the picture from the shot above in the center. That picture was taken just before they cloesed the midway and everyone ran for cover.
---
New Design collections.
Click on the images below to see the collections
---
Check out Lorna's website.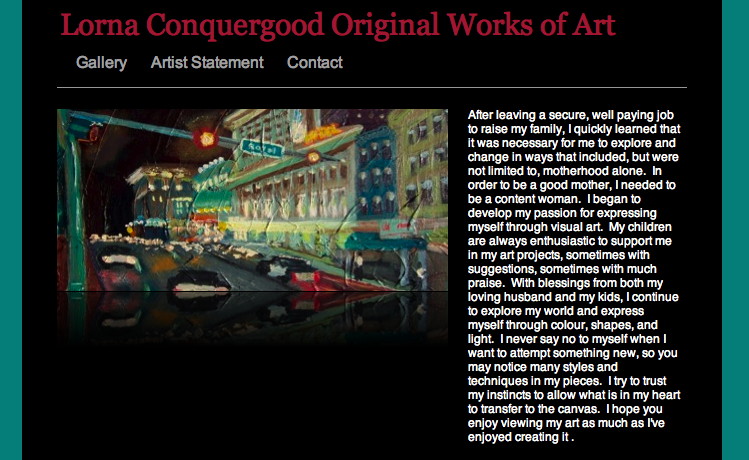 Lorna is a fantastic artist. She is great at everything she tries including quilting, stained glass and painting. As her web designer and loving husband Trevor is very proud of Lorna. She gave up her career in Telecomunications to be at home with our children and they benifit so much from seeing their mother create beautiful artwork right in front of their eyes. It's common for Lauren to make comments on the changes to a painting over breakfast as notices what has changed from yesterday. Be sure to visit her web site to get a closer look at some of her work. LORNASART.COM
---
In Memory of Doris Conquergood.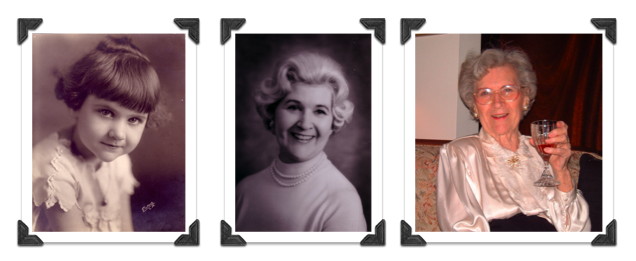 Doris Evans was born December 8th, 1913 in Minneapolis Minnesota USA. Doris started her professional­career­in Hollywood as "Dainty Doris" acting in silent films that pre-date the "Little­Rascals". She lived with her family in over 20 cities across the United States and Canada and eventually settled in Toronto where she attended Oakwood Collegiate. Doris enjoyed sports and played basketball with the Oakwood senior girls team. On September 2nd, 1936 Doris married well known Argo footballer Howard Conquergood in St. Davids United Church. Her proudest accomplishment was the birth of her son "little Georgie" on December 1st, 1946. She retired in 1979 after 20 years as a famous switchboard­operator known as "The Voice of Upjohn". Doris spent her retirement years with her second life partner Mr. Walter Corton. Doris loved to attend the horse races and also love to play cards, keeping a running total with Walter on their daily cribbage games. Doris was liked and loved by all that met her due to her talent of making people feel welcome and involved. After spending 30 years in her Toronto penthouse apartment Doris and Walter moved to Saskatoon in 1989 to enjoy life near her son and family. Doris is predeceased by her parents, Harry and Julia (Riddler) Evans; her sister Virginia (Evans) Hunt; and spouses Howard Conquergood and Walter Corton; as well as her Great Grandson Scott Conquergood. Doris is lovingly remembered by her son and daughter-inlaw, George and Wendy Conquergood; her grandchildren, Trevor (Lorna) Conquergood, Andrea (Lyle White) Conquergood and Carl (Nikki Becker) Conquergood; her greatgrandchildren, George and Molly Cooper, Lauren, Nicholas and Reese Conquergood, and Jade Upton; her nieces, Lynda (Hunt) Baird and Georgia (Hunt) Arnott and their families as well as her extended family and the entire Conquergood Clan.