---
A second annual New Years Eve party at Wakaw Lake, SK. The wood burning stove heated the small cabin and wonderful friends warmed our hearts, Todd, Janine, Alex and Joseph as well as Mel and Colleen (shown here holding Nicholas). Trevor and Todd set off fireworks along the frozen lake while everyone else watched from the warmth of the cottage (Nicholas being only one month, he couldn't go out). It was a great evening of laughter, conversation, and cheese and crackers!
The New Years Eve festivities were too much for little Nicholas. He curled up on his little pillow and got some rest. In the morning, Lauren lovingly woke him up to a new day and a new year. She loves him a lot!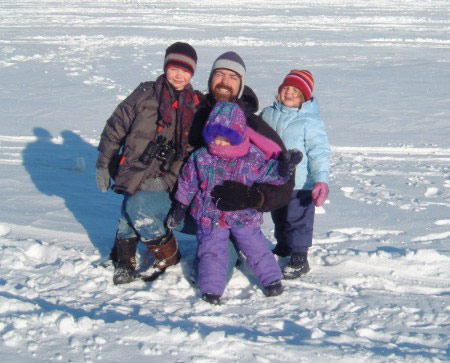 George, Molly and Uncle Ryan came to visit New Years Day. Everyone went for a walk. It was pretty cold, but if you get bundled up it's no problem (other than you can't see faces in photographs very well!).