---
In March, after the Sewing Show in Abbotsford, Lorna and Nicholas flew to join Trevor to visit our friends, Scott and Carlene, in West Vancouver. They are huge Vancouver Cancucks fans and took us to a few games. It was Nicholas' first NHL experience and the noise was a little overwhelming. Since we've been home and watching the games on TV, Nicholas has learned to yell and cheer for his team!
Scott and Carlene live very close to Grouse Mountain. Here are the two old friends, now two proud dads, on one of the ski runs. The adjacent picture shows their sons, Drake and Nicholas, as their new friendship grows.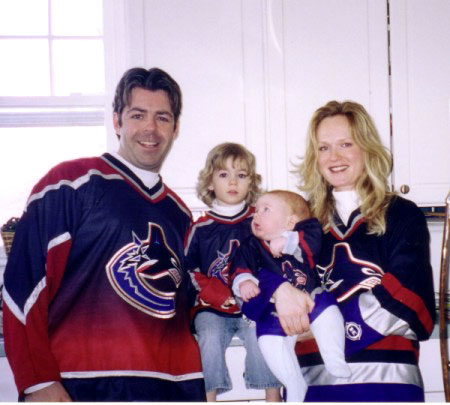 When we came home, we brought Lauren a Canucks jersey. She had stayed home in Saskatchewan to hang out with her Grammas. Since we are in NHL playoff season, we've been wearing our jerseys quite a bit. GO CANUCKS!